Kristi Brinkerhoff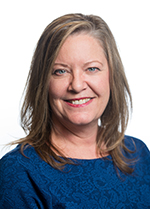 Pacific Northwest National Laboratory
PO Box 999
Richland, WA 99352
Send Email
Biography
Kristi is a Senior Project Coordinator in the Characterization and Remediation Team of the Earth Systems Science Division. Kristi has over 35 years of experience in Business Administration. Since joining PNNL in 1990, her work has focused primarily on proposal development, project and program account management, research and business planning, resource management and tracking, and contracting and acquisition development. Kristi is a key resource providing superior and diversified financial, project, contract, and business support to a multitude of staff and managers across divisions and programs. She serves as an integral source of information regarding business guidelines, procedures, and policies.
Research Interests
Financial Management
Business Development
Project Controls and Lifecycle
Education and Credentials
B.A., Business Administration, Washington State University (Cum Laude)
A.A., Computer Science Technology, Columbia Basin College
Affiliations and Professional Service
Statistician, Battelle Women's Golf League
Zone Warden, ISB2 Building
Awards and Recognitions
1994 - Present - Multitude (15+) of 'Outstanding Performance Awards' (OPA) from across Directorates and Divisions.
1997 - Present - Multiple 'Outstanding Team Performance Awards' - Surface Environmental Surveillance Project, Anadromous Fish Evaluation Program, Secretarial/Clerical Task Force, Silver Bullet Project, and Environmental Technology and National Security Science Team.
2012 - EED 'Of the Year' (OTY) - Project Specialist Award Finalist.
2016 - EED 'Of the Year' (OTY) - Project Team Award for the Hydropower Vision Report.
2016 - EED 'Of the Year' (OTY) - Project Support Person Award Finalist.