Richard Cameron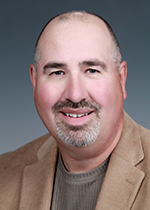 Pacific Northwest National Laboratory
PO Box 999
Richland, WA 99352
Send Email
Biography
Dr. Cameron is a Program Manager in the PNNL Energy and Environment Directorate (EED) Earth Systems Sciences Division (ESSD) Environmental Assessment and Engineering Group. He has a broad range of technical and managerial skills and uses a systems approach to guide project teams to solve complex problems. With over twenty years at PNNL in a wide range of research, applied technology development, testing, and deployment activities with significant client interaction and budget/schedule responsibilities, Dr. Cameron leads engineering and science teams in developing, testing, and validating solutions to issues arising with fielded monitoring systems (e.g., hardware; software; firmware; instrumentation; operations); conducts engineering evaluations and laboratory testing to support solutions; reviews designs; and facilitates modeling. Responsibilities include significant client interaction; negotiations with stakeholders; policy development; working with contracts; developing and managing plans, budgeting and scheduling; reviewing design packages; identifying/resolving technical design/deployment issues; process development; configuration control and changes; estimating life-cycle costs; overseeing contractors and construction activities; and resolving system interface and integration issues.
Since 2008, Dr. Cameron has taught 12 different engineering courses as adjunct faculty at Washington State University — Tri-Cities (WSU-TC). Prior to joining PNNL, he spent 17 years with engineering firms working on a variety of environmental characterization, remediation, and monitoring projects throughout the United States. He is a licensed professional engineer with a Doctorate in Environmental and Natural Resource Sciences; Master's degree in Environmental Engineering; and undergraduate degree in Business Management. In complement to his formal degrees, Dr. Cameron also has obtained graduate certificates in systems engineering; project management; engineering management; and construction management.
Education and Credentials
Ph.D., Environmental and Natural Resource Sciences, Washington State University, 2018
M.S., Environmental Engineering, Washington State University, 1997
B.A., Business Management, Eckerd College, 1993
Graduate Certificates through the Engineering & Technology Management Program:

Engineering Management, Washington State University, 2008
Systems Engineering, Washington State University, 2007
Project Management, Washington State University, 2006
Construction Management, Washington State University, 2007
Licensed Professional Engineer, State of Washington - Civil Engineering, Number 33927
Awards and Recognitions
2014 - R&D 100 Award for the Solar Thermochemical Advanced Reactor System
2012 - Fitzner-Eberhardt Award for Outstanding Contributions to Science & Engineering Education
2012 - Faculty Advisor of the Year at Washington State University - Tri-Cities
1991 - George Westinghouse Signature Award for Excellence in Engineering
PNNL Publications
2015
Cameron R.J., B.G. Fritz, C. Hurlbut, R.T. Kouzes, A. Ramey, and R. Smola. 2015. "Fogging in Polyvinyl Toluene Scintillators." IEEE Transactions on Nuclear Science 62, no. 1:368-371. PNNL-SA-105192. doi:10.1109/TNS.2015.2390076
Zheng F., R. Diver, D.D. Caldwell, B.G. Fritz, R.J. Cameron, P.H. Humble, and W.E. TeGrotenhuis, et al. 2015. "Integrated solar thermochemical reaction system for steam methane reforming." Energy Procedia 69. PNNL-SA-104155. doi:10.1016/j.egypro.2015.03.204
2010
2005
Zhong L., G.A. Pope, J.C. Evans, and R.J. Cameron. 2005. "Impact of Salinity on the Air-Water Partition Coefficient of Gas Tracers." Journal of Environmental Engineering (ASCE) 131, no. 9:1354-1357. PNNL-SA-40143.
2002
2001
1999
TeGrotenhuis W.E., R.J. Cameron, M.G. Butcher, P.M. Martin, and R.S. Wegeng. 1999. "Microchannel Devices for Efficient Contacting of Liquids in Solvent Extraction." Separation Science and Technology 34, no. 6-7:951-974. PNNL-SA-29619. doi:10.1080/01496399908951075