Casey Spitz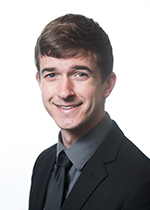 Pacific Northwest National Laboratory
PO Box 999
Richland, WA 99352
Send Email
Biography
Casey Spitz joined Pacific Northwest National Laboratory in 2017 as a part of the Energy and Environment Directorate. His primary roles since joining the lab have been as a risk analyst and a data analyst. More recently, he has been involved in modeling with various computational fluid dynamics packages. Projects he has worked on include:
Development of a software suite to support the project risk analysis process
Data analysis of the ENSA/DOE Multi-Modal Transportation Test
Project risk analysis for the USHPRR Conversion project
Project risk analysis for various building/acquisition projects at PNNL
Thermal hydraulics modeling in Fluent and STAR-CCM+
Research Interests
Data analysis
Modeling
Programming
Education and Credentials
B.S., Engineering Physics, Colorado School of Mines
M.E., Nuclear Engineering, Colorado School of Mines
Awards and Recognitions
2018 - United States Department of Energy: The Secretary of Energy Achievement Award. "International Multi-Modal Surrogate Spent Nuclear Fuel Transportation Test Team"
PNNL Publications
2020
Klymyshyn N.A., K. Kadooka, P. Ivanusa, C.J. Spitz, and J.F. Fitzpatrick. 2020. 30 cm Drop Modeling. PNNL-30495. Richland, WA: Pacific Northwest National Laboratory. 30 cm Drop Modeling
2019
Klymyshyn N.A., P. Ivanusa, K. Kadooka, and C.J. Spitz. 2019. "MODELING SHOCK AND VIBRATION ON USED NUCLEAR FUEL DURING NORMAL CONDITIONS OF TRANSPORTATION." In Proceedings of the ASME 2019 Pressure Vessels & Piping Conference (PVP 2019), July 14-19, 2019, San Antonio, TX, 7, Paper No: PVP2019-93619, V007T07A027. New York, New York:ASME. PNNL-SA-140861. doi:10.1115/PVP2019-93619