Dani Young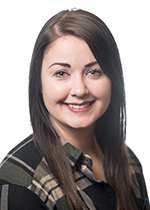 Pacific Northwest National Laboratory
PO Box 999
Richland, WA 99352
Send Email
Biography
Dani moved to the Tri-Cities from Snohomish County, WA in Winter of 2016 to receive her B.S. in Civil Engineering from Washington State University. Immediately falling in love with the cities' opportunities and pace, Dani and her husband Darren decided to purchase their first home. In addition to her project responsibilities at PNNL, she attending WSU to purse her M.S. in Environmental Engineering. The few hours she is not studying or sleeping, Dani is weightlifting or reading.
Education and Credentials
B.S., Civil Engineering, Washington State University, May 2019 (expected).
Affiliations and Professional Service
American Society of Civil Engineers, WSU-TC Student Chapter President
Dotfit Certified Personal Trainer
Awards and Recognitions
2017 - 2019 - Crimson Achievement Award
2018 - WSU-TC Woman of Distinction