Kristine Hand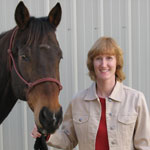 Pacific Northwest National Laboratory
PO Box 999
Richland, WA 99352
Send Email
Biography
Kris Hand is a scientist who conducts work in environmental compliance, terrestrial and aquatic ecology, wildlife biology, and fisheries. Her current focus is as a team leader and member of the Public Safety and Resource Protection Program (PSRPP) on the U.S. Department of Energy Hanford Site. For the Ecological Monitoring and Compliance Project within PSRPP she conducts field assessments to analyze impacts of Hanford Site operations on biological resources of concern and advises site contractors regarding minimizing and mitigating impacts. She has expertise in evaluating shrub-steppe habitat conditions and identifying sensitive species to assure compliance with regulatory requirements. She manages and performs ecological field surveys, supervises field crews, and writes ecological resource compliance reviews. For the Surface Environmental Surveillance Project within PSRPP she is experienced in sampling and processing wildlife, vegetation, and soils for metals analyses. She previously was the task lead for laboratory research on the effects of total dissolved gas on incubating chum salmon. She also manages the Ecology Group's scientific collection permits.
Research Interests
Ecosystem management and assessment
Geographical Information Systems
Shrub-steppe ecology
Wildlife ecology
Education and Credentials
B.S., Wildlife Biology, Washington State University. 1991
A.S., Animal Biology, Centralia Community College, Centralia, WA, 1988
PNNL Publications
2010
Downs JL

, KD Hand, and MA Chamness. 2010. Biological Review of Miscellaneous Debris Items on the North Slope: Hanford Reach National Monument Block 15.

PNNL-19777

, Pacific Northwest National Laboratory, Richland, WA.
Simmons MA, TM Poston, BL Tiller, A Stegen, KD Hand, and

JM Brandenberger

. 2010. Canada Geese at the Hanford Site - Trends in Reproductive Success, Migration Patterns, and Contaminant Concentrations .

PNNL-19212

, Pacific Northwest National Laboratory, Richland, WA.
2009
Arntzen EV, KD Hand, KM Carter, DR Geist,

KJ Murray

, EM Dawley, VI Cullinan, RA Elston, and J Vavrinec, III. 2009. Total Dissolved Gas Effects on Incubating Chum Salmon Below Bonneville Dam.

PNNL-18081

, Pacific Northwest National Laboratory, Richland, WA.
2008
Arntzen EV, KD Hand, DR Geist, KJ Murray,

J Panther

, VI Cullinan, EM Dawley, and RA Elston. 2008. Effects of Total Dissolved Gas on Chum Salmon Fry Incubating in the Lower Columbia River .

PNNL-17132

, Pacific Northwest National Laboratory, Richland, WA.
2006
Geist DR

, CS Abernethy, KD Hand, VI Cullinan, JA Chandler, and P Groves. 2006.

"Survival, development, and growth of fall Chinook salmon embryos, alevin, and fry exposed to variable thermal and dissolved oxygen regimes."

Transactions of the American Fisheries Society

135

(6):1462-1477.

Geist DR

, CS Abernethy, KD Hand, VI Cullinan, JA Chandler, and P Groves. 2006.

"Survival, development, and growth of Snake River fall Chinook salmon Embryos, Alevins, and Fry Exposed to Variable Thermal and Dissolved Oxygen Regimes."

Transactions of the American Fisheries Society

135

(6):1462-1477.

doi:10.1577/T05-294.1