Keith Peterson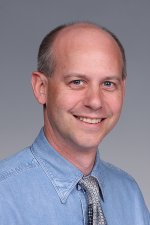 Pacific Northwest National Laboratory
PO Box 999
Richland, WA 99352
Send Email
Biography
Keith Peterson has 14 years experience in chemical research, focusing on environmental projects. He currently conducts applied catalytic reaction research, evaluating high-value chemical manufacture from renewable, bio-based feedstocks. Mr. Peterson has made major contributions to projects in the area of pollution prevention and sustainable design, including industrial ecology, green buildings, and sustainable systems design; industrial pollution prevention technologies; integrated natural resource management; sustainable technologies and management systems; environmental policy & risk management; and strategic business planning incorporating environmental design principles.
Education and Credentials
B.S., Environmental Chemistry, Western Washington University, 1988
Certified Sustainable Building Design Advisor, Seattle Central Community College, 2001
PNNL Publications
2004
Elliott D.C., K.L. Peterson, D.S. Muzatko, E.V. Alderson, T.R. Hart, and G.G. Neuenschwander. 2004. "The Effects of Trace Contaminants on Catalytic Processing of Biomass-Derived Feedstocks." Applied Biochemistry and Biotechnology 115, no. 1-3:807-825. PNNL-SA-39016.
2000